Fishing Tournament Information
13th Annual North Texas Power Stroke Rally at KOA, Caddo Mills, Texas
October 4 - 6, 2013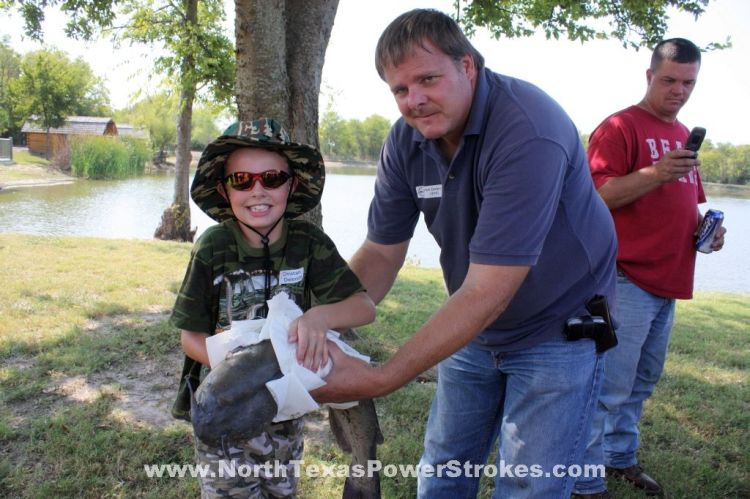 2012 Kids Fishing Tournament Winner
Catfish: 26inches and 16lbs
Christian - 8yrs old - from Double Oak, Tx
Have A Question About The Fishing Tournamant?
Who can participate in the Fishing Tournament?
Both Kids AND Adults!!!
2013 Fishing Tournament Categories
1st Place Kids
2nd Place Kids
3rd Place Kids
1st Place Adults
2nd Place Adults
3rd Place Adults
Fishing Awards:
All Winners of Each Category Will Win An Award. The Winners of 1st, 2nd, and 3rd Will Win A Special Trophy (Both Kids and Adults Seperately).
NTxPSA Rules:
Pre-Registration Is Required at the NTxPSA Booth Saturday Morning, Fishing Begins at 9am, Bait Will Be Provided by NTxPSA.
The Winners Will Be Announced At The Saturday Night Dinner - If You Need To Leave Before Then Please Notify Kevin Neal So That A Picture Can Be Taken With The Winner and Your Award for The NTxPSA Website.
Fishing Rules and Regulations:
No Texas Fishing License is needed in order to fish at the KOA Campgrounds Pond. This is "catch and release"
This site is privately produced for promotion of a private event. The organizers of this event are not professional promoters and are acting in a not for profit capacity. They have and will continue to volunteer their time and efforts in a capacity that effectively promotes this or future rallies. This site / event is in no way associated with TheDieselStop.com, The International Truck and Engine Company, The Ford Motor Company, and any Vendors and/or Manufacturers who have attended past events or will attend future events.