Rally Information:

8th Annual North Texas Power Stroke Rally at KOA, Caddo Mills, Texas
May 18-20, 2007
Where and When?
KOA, Caddo Mills, Texas May 18-20, 2007
Reservation info:
On the web - KOA WebSite
If registering by website,
in NOTES section, type in
Power Stroke Rally!
Also, can call at(866)325-5271
Hotel Information:
Greenville is 10 miles away
Royse City is 9 miles away
Discuss This Event:
Pictures:
Registration Info:
If you Fill out the Registration Online, You will receive 1 FREE entry to our Drawing on Saturday Night!
Also, Can Contact Kevin @ 972-768-7252
kevin@northtexaspowerstrokes.com
Park Pricing:
Full Hookups 30 & 50amps : 29.99 a day
Tent Site : 28.47 a day
2 Room Cabin on Pond : 79.99 a day
2 Room Cabin(sleeps 6) : 49.99 a day
1 Room Cabin(sleeps 4) : 39.99 a day
ALL CABINS ARE BOOKED!
Confirm all Pricing with the KOA
Park Pictures:
Fishing:
There is fishing on site at the KOA and is no charge to cabin and site renter's. Also, No Texas Fishing License is needed. This is "catch and release"!
Vendors and Sponsors:
Activities:
T-Shirts! Click for Info on Ordering: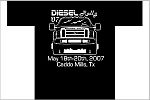 This site is privately produced for promotion of a private event. The organizers of this event are not professional promoters and are acting in a not for profit capacity. They have and will continue to volunteer their time and efforts in a capacity that effectively promotes this or future rallies. This site / event is in no way associated with TheDieselStop.com, The International Truck and Engine Company, The Ford Motor Company, and any Vendors and/or Manufacturers who have attended past events or will attend future events.
Copyright &copy 2000-2007, North Texas Power Stroke Association
All Rights Reserved.
Best Viewed at 1024x768